New Ways to Eat Your Favorite Beachbars
When it comes to healthy snacks on the go, Beachbars are the ultimate convenience. But eating the same bar, in the same way, can get a little boring. Next time you have a few minutes to experiment, try one of these smart tricks for taking your favorite bar to a whole new level.
People who follow a Beachbody nutrition plan
BEACHBAR is a delicious, sensible snack bar that easily fits into Beachbody nutrition plans. You can drink Shakeology in the morning and then eat a BEACHBAR in the afternoon to satisfy your craving for a snack without blowing your calorie count.  The following recipes are a few examples of how you can ramp up your treat that you can have in moderation.
The Portion Fix Container Equivalents for one BEACHBAR are: ½ Red, ½ Yellow, 1 teaspoon (oils and nut butters).
Microwave It
Regular snack? Delicious. Warm gooey version of your favorite bar? Um yeah, that's even better. This is probably the simplest bar hack out there, and yet it's a total game-changer.
Depending on your bar of choice, all you'll need to do is stick it in the microwave for between 10 and 30 seconds, and voila! You're done. Denser bars will need longer, while bars that are already semi-soft just need a quick zap.
Turn It Into a Topping
Whether you add it to a protein-packed Greek yogurt, oatmeal, or a smoothie bowl, snack bars are an awesome substitute for granola and other toppings. Try adding fresh fruit to the mix for an extra hit of healthfulness.
Make It Into Bark
Got a candy craving? Try this super simple technique to turn your bar into candy-like bark. First, pulse 2 Beachbars in a food processor, then melt 1/4 cup of coconut butter on the stove or in the microwave. Pour the pulsed bars into the melted butter and pour onto a piece of parchment paper. Add fruit, dried fruit, nuts, unsweetened coconut, mini chocolate chips and drizzle with peanut butter if desired or any other  toppings, then freeze until firm. Lastly break into bite-sized pieces and enjoy in moderation!
Craft a Coffee Dipper
Not in the mood for a cooking project? Next time you have your afternoon cappuccino or latte, simply dunk your bar in the foam for a mind-blowingly easy way to change things up. The coffee flavor will enhance whatever your bar already has going on, and the temperature will create an effect similar to microwaving.
Go Boating
If you've never had one of these, you're missing out. Grab a ripe banana and slice it down the middle without cutting it completely in half. Load it up with whatever toppings you want—1 tsp. drippy peanut butter, chocolate chips, marshmallows, nuts, you name it—and then add a chopped-up Beachbar. Put it in the microwave for 30 seconds.  Now you have yourself a warm gooey treat that will keep you satisfied.
Top Your Pancakes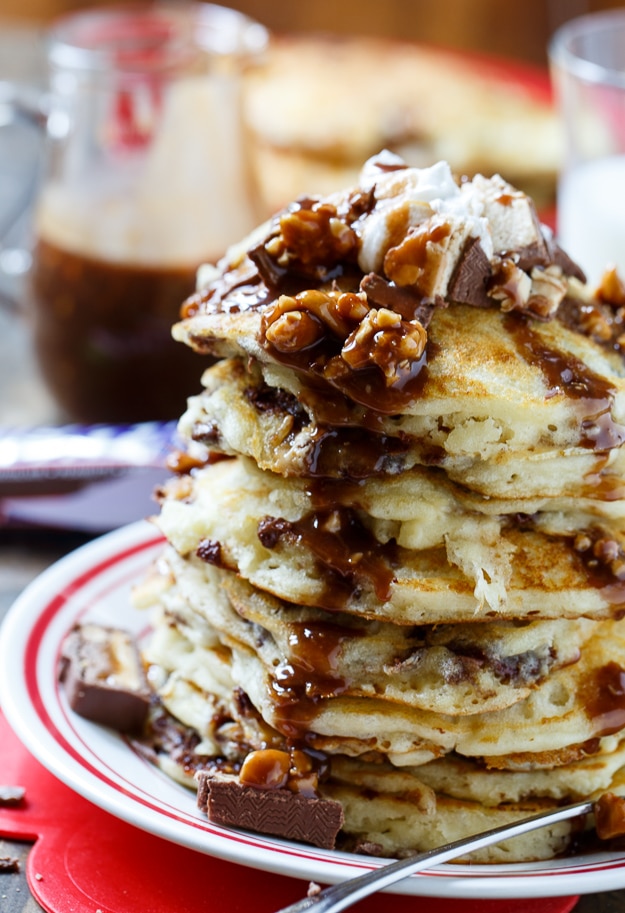 Brunch like a pro! Who needs chocolate chips when you could have snack-bar chunks on your stack? Simply use your favorite pancake recipe (try this protein pancake recipe if you're not sure where to start), and add your crumbled snack bar to the mix. Top with whatever your heart desires but I like them just as is.
---