No-Cook Meal Prep for the 1,500 – 1,799  Calorie Level (B) ♥
Note: If you are working with a higher calorie meal plan simply add in your portions where you need them so you can stay on track throughout the day.
---
Sometimes you have a week that is short on time but big on ambition. I knew I would regret skipping my meal prep for the week if I didn't get my act together so I check out the
Beachbody On Demand Blog
for this awesome no-cook meal prep.
Go ahead and set up shop in your kitchen to prep for the week to come and you might get some great tips that will carry you throughout your Healthy Living journey since this is a sweat free, easy to assemble meal plan that comes together with a lot of pantry staples in record time.
Juicy berries in an oatmeal jar for breakfast, crunchy tuna lettuce cups for lunch, savory Asian chicken wraps for dinner…
This meal prep is ideal for a summer heat wave,  if cooking isn't one of your strengths, or if like me, you don't have a lot of time to spend on meal prep on any particular week.
This no-cook meal prep follows the meal plan for the 1,500-1,700 calorie level. It uses color-coded portion control containers to measure out the amounts of foods you'll eat each day so you'll get the right combination of macronutrients and won't have to count calories. Green is veggies, purple is fruits, red is protein, yellow is carbs, blue is healthy fats, and orange is for seeds and dressings. Each day you get:
4 green containers
3 purple containers
4 red containers
3 yellow containers
1 blue container
1 orange container
4 teaspoons
Here's what your no cook meal plan for the week will look like when you're done.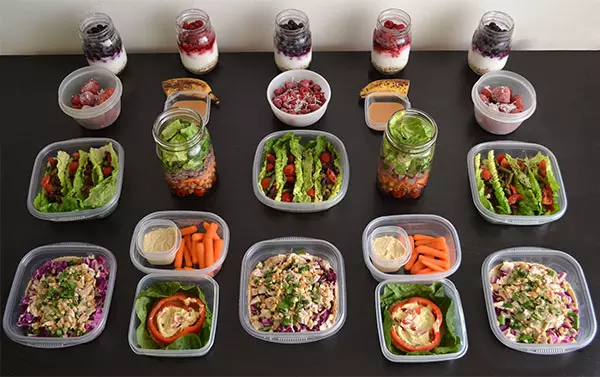 No Cook Meal Prep Menu
---
BREAKFAST – Pre-workout Option
Monday, Wednesday and Friday: Shakeology with 1 cup baby spinach, 1 cup unsweetened almond milk and 1/2 cup cooked sweet potato = 1 Red, 1 Green, 1 tsp. 1 Yellow
Tuesday and Thursday: Shakeology with 1 cup cucumber or zucchini, 1 cup unsweetened almond milk and 1/4 cup uncooked rolled oats = 1 Red, 1 Green, 1 tsp. 1 Yellow
---
SNACK – Post-workout option
Monday – Friday
Overnight Carrot Cake Oats
(Layer ¼ cup oats, ¾ cup Greek yogurt mixed with 1/2 scoop vanilla Shakeology and 1/4 cup unsweetened almond milk, 1 cup diced pineapple in water, 1 cup minced carrots, 1 tsp nut butter = 1 Yellow, 1 Green, 1 Red, 1 Purple, 1 tsp)
---
Meal Option #1
Monday, Wednesday and Friday:
Protein Snack Box #1
1 cup Greek Yogurt, 3/4 cup berries, and 1 tsp nut butter, cinnamon (1 Red, 1 Purple, 1 tsp)
Tuesday and Thursday:
Protein Box #2
4 Reduced Sodium Natural Turkey slices and 1 apple sliced with 1 tsp. Peanut Butter on top (1 Red, 1 Purple, 1 tsp)
---
Meal Option #2
Monday, Wednesday and Friday:
Salad To-Go
1 cup Baby Spinach, 3/4 cup sliced strawberries & almonds with balsamic drizzle (1 Green, 1 Purple, 1 Blue)
Tuesday and Thursday:
Vegetable and Fruit Box 
1 cup cut up Cucumber topped with crumbled feta and 3/4 cup grapes (1 Green, 1 Purple, 1 Blue)
---
Meal Options #3
Monday, Wednesday and Friday:
Asian Chicken Wrap
(4 oz. rotisserie chicken breast; 2 Tbsp; one 6-inch whole wheat tortilla; 1 cup shredded cabbage with carrots, cilantro or parsley; green onion; 2 Tbsp. Peanut Lime Dressing = 1 Red, 1 Green, 1 Yellow, 1 Orange, 1 tsp.)
Tuesday and Thursday:
Loaded Turkey burger
(1 turkey burger  [microwave or put in toaster oven to heat],whole grain bun (or sprouted) with lettuce, tomato slice, mustard, canned jalapeno slices and 1 tsp nut butter = 1 Red, 1 Green, 1 Yellow, 1 Orange, 1 tps
---